You Did It!
Together, YOU Met the Challenge!
Together, YOU donated Over $50,000
Because of YOU,  A VERY GENEROUS Anonymous donor will donate $100,000! WOW!
Heart of the Matter & Tinman Awards is the Carousel Center's annual fundraising event that celebrates and recognizes members of our community who help build resiliency in child abuse survivors and who provide exceptional service to children and/or their families in New Hanover, Brunswick, and Pender Counties.


Funds raised from this event will help change how our community responds to child abuse.


Thank you for your support!

#

justtryingtohelpsomekids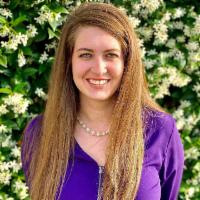 Kendall is a survivor.
She is also a Carousel Center kiddo. 
Kendall found her voice after childhood sexual abuse. And shares her experience from grooming to finding hope and healing. Author of "Brave Girl, Speak," a blog dedicated to educating readers about childhood sexual abuse and its impacts on victims, the sex offender registries and how to navigate the legal system, and a personal look at the healing journey from trauma.
Ms. Wolz is currently working with legislators in NC to ensure that victims' voices are honored within the legal system, especially in sex offender petition hearings. Ms. Wolz has provided presentations for local, state, and national groups on topics such as childhood trauma, sexual abuse, and human trafficking.
Ms. Kendall Wolz is a Provisional Licensed Professional Counselor and serves as Assistant Director of Baptist Friendship House, a transitional housing program for homeless women and children in New Orleans. She graduated from New Orleans Baptist Theological Seminary in May 2018 with a MA Counseling specialization in Clinical Mental Health Counseling. Ms. Wolz is a current Ph.D. student in the Counselor Education and Supervision Program at New Orleans Baptist Theological Seminary.
In the iconic 1939 movie, The Wizard of Oz, the Tin Man character traveled to The Emerald City with Dorothy because he believed he needed a heart from The Wizard. In reality. he had the biggest heart all along. The Tin Man was humble, loving, caring, and compassionate.
Behind every person in the limelight are usually many who make the road easier, and do a great amount of the work, give of themselves, their time, and/or their gifts.
These unsung heroes are the heart of our community, and they are continually the heart of how The Carousel Center is able to offer healing services to the child victims of abuse/neglect and maltreatment, who utilize our Child Advocacy Center each year. Together, we can change how our community responds to child abuse.
Pictures from this Year's Heart of the Matter & Tinman Awards Luncheon