2022 Heart of the Matter & Tinman Awards
7th Annual Luncheon & Fundraiser
Wednesday, February 2nd, 2020
11:30 AM – 1:30 PM at the Hotel Ballast Grand Ballroom
Heart of the Matter & Tinman Awards luncheon is the Carousel Center's annual fundraising event that celebrates and recognizes members of our community who help build resiliency in child abuse survivors and who provide exceptional service to children and/or their families in New Hanover, Brunswick, and Pender Counties.


Funds raised from this event will help change how our community responds to child abuse.


Thank you for your support!

#

justtryingtohelpsomekids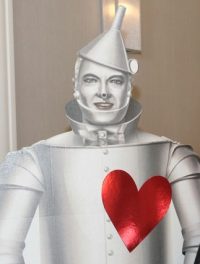 Annual Tin Man Biggest Heart Award
In the iconic 1939 movie, The Wizard of Oz, the Tin Man character traveled to The Emerald City with Dorothy because he believed he needed a heart from The Wizard. In reality. he had the biggest heart all along. The Tin Man was humble, loving, caring, and compassionate.
Behind every person in the limelight are usually many who make the road easier, and do a great amount of the work, give of themselves, their time, and/or their gifts.
These unsung heroes are the heart of our community, and they are continually the heart of how The Carousel Center is able to offer healing services to the child victims of abuse/neglect and maltreatment, who utilize our Child Advocacy Center each year. Together, we can change how our community responds to child abuse
It is because of supporters like you, at the 2020 6th Annual Heart of the Matter Luncheon 325 attendees donated more than $47,712 in net proceeds!  Our Goal for 2022 is to BEAT that year's proceeds!
Your sponsorship helps make it possible for the Carousel Center to continue its mission to provide a nationally accredited, child-friendly environment to meet the needs of abused and neglected children and to support child abuse prevention efforts in Southeastern North Carolina.  At the luncheon we:
Increase awareness regarding The Carousel Center's mission and services to New Hanover, Brunswick, and Pender counties.

Educate attendees on the current state of our reality regarding child abuse in our community.

Inform attendees of The Carousel Center's mission to provide expert, comprehensive intervention services for child victims of physical and/or sexual abuse.

Honor the 2020 Tin Man Biggest Heart Winner!
Sponsor Details:
Commitments received by December 31st are guaranteed to receive all benefits listed below.
PRESENTING "COURAGEOUS" SPONSOR $5,000
"HEART OF GOLD" SPONSOR $2500
"HEARTS ON FIRE" SPONSOR $1500
 "Guardian of Children" Sponsor
As a HOST, you are the heart of this event, together we can change how our community responds to child abuse.
Each host will have your own webpage (URL) and you can invite your friends, colleagues, and family to join you to reach your $$$ goal to raise the necessary funds to provide services to child survivors and their families.  Invite 9 of your closest friends and colleagues to fill a table – lunch is on us!
With your pledge to raise $1000 for the mission, you can join the fight to change how our community responds to child abuse.
Thanks to our sponsors, 100% of all donations made to this event will benefit the Carousel Center.
Sign Up →
Sign up to Be A HOST in 2022
Please contact Laurie Taylor, development manager, laurie.taylor@carouselcenter.org, or 910-254-9898 with any questions.
Thank you in advance for your support of The Carousel Center!
Pictures from the 2020 Heart of the Matter & Tinman Awards Luncheon (Pre-Covid)