Heart of the Matter & Tinman Awards is the Carousel Center's annual fundraising event that celebrates and recognizes members of our community who help build resiliency in child abuse survivors and who provide exceptional service to children and/or their families in New Hanover, Brunswick, and Pender Counties.


Funds raised from this event will help change how our community responds to child abuse.


Thank you for your support!


#

justtryingtohelpsomekids
Yes! I want to be a host. 
As a host I will invite my friends and colleagues to hear a dynamic speaker, and learn more about the Carousel Center and how I can be a Partner In Prevention to End Child Abuse in my community!  I will commit to raising at least $1000 towards this essential mission.  
Nominate a Tinman Today!
Deadline is December 15, 2022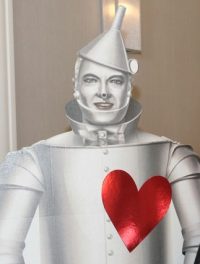 In the iconic 1939 movie, The Wizard of Oz, the Tin Man character traveled to The Emerald City with Dorothy because he believed he needed a heart from The Wizard. In reality. he had the biggest heart all along. The Tin Man was humble, loving, caring, and compassionate.
Behind every person in the limelight are usually many who make the road easier, and do a great amount of the work, give of themselves, their time, and/or their gifts.
These unsung heroes are the heart of our community, and they are continually the heart of how The Carousel Center is able to offer healing services to the child victims of abuse/neglect and maltreatment, who utilize our Child Advocacy Center each year. Together, we can change how our community responds to child abuse.