About the Carousel Center
The Carousel Center coordinates the investigation, prosecution and treatment of the most severe cases of child abuse in Brunswick, New Hanover, and Pender Counties. As the only nationally-accredited child advocacy center in our service region, the Carousel Center serves children from birth through age 18. All services are provided in a nurturing, friendly and safe environment at no cost to a child's family.
Last year the Carousel Center served almost 500 children when there are concerns of sexual abuse, physical abuse, or who had witnessed a violent crime. The Carousel Center's family advocates also supported these children's caregivers by guiding them through the investigative process and connecting them with resources so the children and families could continue to heal.
The Carousel Center's mission is to support healing, promote justice, and foster resilience in children victimized by physical or sexual abuse and to improve our community through education, prevention and advocacy. The Carousel Center vision is to build resiliency in children to strengthen the community.
No school system entity, public or private, may refer a child victim to a Child Advocacy Center for an evaluation. Only local departments of social services or law enforcement may refer a child to an advocacy center.
In North Carolina, all school faculty and staff are "Mandated Reporters" for suspected, observed or disclosed incidents of child physical/sexual abuse and/or neglect. This means they are required by law to report incidents to either their local department of social services and/or 9-1-1 or law enforcement.
https://nccriminallaw.sog.unc.edu/big-news-s-l-2019-245-creates-a-new-universal-mandated-reporting-law-for-child-victims-of-crimes-and-changes-the-definition-of-caretaker/
Who can refer for a CME (Child Medical Exam)?
In North Carolina, only Departments of Social Services (DSS) and Law Enforcement agencies with an open investigation for child physical/sexual abuse and/or neglect may schedule a CME at a Child Advocacy Center, like Carousel Center.  If you think a child is being/or has been physically or sexually abused contact your local Department of Social Services, or local law enforcement.
Anyone may refer child survivors and their parents/adult caregivers to the Carousel Center for access to evidence-based child trauma therapy services which we provide regardless of a family's ability to pay, documentation status, and/or insurance coverage status.
What is a CME (Child Medical Exam)?
A CME is a Child Medical Evaluation (CME). This evaluation is a forensic-medical process that allows experts to observe, document, and collect evidence for the basis of a DSS and/or criminal child abuse investigation.  A CME includes a child forensic interview and head-to-toe wellness exam conducted by forensic experts in child abuse.
The NC Child Medical Examiners Program (CMEP) staff has developed a statewide network of local providers who perform medical and psychological assessments of children referred by DSS and law enforcement agencies to help determine the presence or extent of abuse and neglect.
Established in 1976, the Child Medical Evaluation Program (CMEP) is a cooperative effort of the UNC School of Medicine's Department of Pediatrics, the NC State Division of Social Services, the NC Legislature, local Departments of Social Services, and local medical and mental health providers. Payment for the services is provided through a contract with the NC Division of Social Services. There are approximately 100 medical providers and 50 psychological providers in the state as well as referral clinics at the major medical centers. The CMEP of North Carolina has served as a model for the development of similar programs in other states in efforts to identify, treat, and prevent maltreatment of children.
What happens at the Carousel Center/Child Advocacy Center?
The Carousel Center Child Advocacy Center (TCC) is a safe, child friendly location for children to speak with trained interviewers or one of our medical providers. We know this can be an anxious time for you and your family. When we are able, one of our family advocates will call you before the interview or medical evaluation to answer any of your questions. But you don't have to wait. If you have questions and need answers, please call and ask to talk to the advocate assigned to your child's case. We would rather you call than worry.
At the Carousel Center we work with a team of professionals from law enforcement and the Department of Health and Human Services. When you come to the TCC, you will be able to meet the professionals working on your child's case and ask them further questions.
While you're talking to the team, one of our advocates will be showing your child(ren) around the Center. They will get to see the room where they will be talking, where they can play and check out the cool artwork. If they have questions or worries, they can ask their advocate anything.
Will I be able to watch my child's interview?
No. Only professionals directly involved in the investigation are allowed to observe the interview. This is done to reduce the possible stress that can be placed on a child and to provide a neutral setting for the child and the investigation.
Many of us working at TCC are parents just like you. We understand how being in the same room with our child may influence what the child says or doesn't say. If our child doesn't answer quickly enough, we may answer for them. Whenever we have made exceptions to the rule, it just doesn't work. It's hard for us as moms and dads to sit quietly or not influence the interview with a concerned look or an emotional reaction.
Parents are also not allowed in the observation room during their child's interview. We have two different interview rooms and to ensure confidentiality, only professionals are allowed in the observation room.
All of the interviews at the Child Advocacy Center are recorded to minimize the number of times your child will have to talk about what happened. The DVD recording of the interview is turned over to law enforcement as part of evidence in a potential criminal case. North Carolina law specifies how, when and to whom CME Reports and/or Child Advocacy Center records (because they are confidential and/or privileged) may be released.
DSS Records:
N.C.G.S. 7B-302(a1)(3) – CME and/or FI received by DSS for an investigation of child abuse, neglect or dependency are strictly confidential and cannot be released except in certain circumstances (i.e. with court order).
N.C.G.S. 7B-505.1(d) – CME cannot be shared, except pursuant to N.C.G.S. 7B-700
N.C.G.S. 7B-700 and N.C.G.S. 7B-3100 – allow us to share information with community partners named in the administrative order (signed by the Chief District Court Judge) for protection of the child.
Privileged Information (CME and FIs):
N.C.G.S. 8-53 – physician/patient privilege; court order required
N.C.G.S. 8-53.7 – social worker privilege; court order required
N.C.G.S. 8-53.8 – LPC/counselor privilege; court order required
Law Enforcement Records (CME and/or FI):
N.C.G.S. 132-1.4(l) – Records of investigations of alleged child abuse shall be governed by Article 29 of Chapter 7B of the General Statutes.
N.C.G.S. 7B-2901 – Court order required
What do I tell my child about coming to the Child Advocacy Center?
You might tell your child:
"We are going to the Carousel Center. It is a special place where kids go to talk about important stuff. The person you will be talking to talks to lots of kids about what might have happened to them. It's okay to tell them everything. You are not in any trouble."
Who will my child talk to?
Your child will be talking to one of our trained forensic interviewers. These professionals have attended basic and advanced training on how to talk to children about difficult subjects. It's important that any details about the alleged abuse come from the child. Our interviewers are trained to not ask suggestive questions and to move at a pace that is comfortable for your child. They never force a child to talk to them.
What will I be doing while my child is talking to someone?
You will be meeting with your family advocate. They will answer any questions you have. If they don't know the answer, it is their job to find out. They will listen to your worries and concerns and provide resources to help you through a difficult time. Our advocates are not therapists, but they can listen and get you the help you need.
Your other children are welcome to play in our lobby area so you can talk privately to your advocate. Our staff assistant or one of our interns will keep an eye on them. Before they find our snacks in our kitchen, be sure to let us know if your child(ren) has any food allergies or diet restrictions.
What happens after the interview?
You will be able to talk to members of the investigation team. They will tell you in general terms what they learned from the interview. You will have an opportunity to ask questions and voice your concerns.
Remember, your child's interview is just the first step in the investigative process. There may be other witnesses that need to be interviewed. There may be physical evidence that needs to be photographed or collected. The alleged offender will be interviewed. So, at this point in the process it's often difficult to predict what will happen. All of the information will be turned over to the county attorney who will decide whether or not to prosecute. Your family advocate will keep in regular contact to let you know what is happening on the case. If you have questions at any point during the investigation or prosecution of your child's case, please feel free to contact your advocate.
Parents and children are often worried about whether they will have to testify in court. It's really way too early to know. If this happens, our advocate will be with you every step of the way and will even provide a special Court School to help your child feel more comfortable.
Will my child need a medical exam?
Based on the allegation or the interview, the members of the investigative team may decide a medical evaluation is needed. For many children, knowing their bodies are okay is a huge relief. Even if the investigative team doesn't request a medical exam, we can arrange for an exam if it helps your child be less worried or anxious. Just talk to your family advocate about the options.
We have medical providers with specialized training in child abuse who conduct the medical evaluations at TCC. They will want to spend some time with you to collect important medical history, but they will also want to talk to your child one-on-one to answer any of their questions. When it comes time for the actual medical evaluation, we leave it up to the child who they want in the room. Some children want their parent(s) in the room and some don't.
Our medical providers use a tool to help them see the genital area more clearly. This tool is called a colposcope and it is a magnification device with a camera. The medical provider can take a picture of what they are seeing. If they need a second opinion, your child doesn't have to have another exam. They can consult with a medical peer utilizing the photographs taken during the evaluation.
When the medical evaluation is over, the medical provider will be able to tell you what he or she has learned. It's important to realize that in at least 95% of all cases of child sexual abuse, there are no medical findings and the medical provider can help explain this to you more fully.
Will my child need counseling?
Some children do and some don't. Every child is unique in how they cope. Some may not need counseling now but will need counseling down the road. Maybe you need counseling more than your child to help you cope with everything that has happened. Your advocate will listen and provide referral information. What we do know is that children who are believed and protected from continued abuse are able to do quite well.
It is very important to your child's recovery that you work with a therapist specifically trained and experienced in trauma and abuse. This is a field with special expertise.
In most instances, it is important to provide your child with an opportunity to talk with a professional. Too often parents just want their child to "forget" about the abuse and "move on." That's easier said than done. Counseling can help your child and family through this very difficult time. It's best to address issues and concerns now, rather than years later. We have therapists available at the Carousel Center, or we can provide you with referrals to therapists in the community. Just let us know.
Certified medical professionals perform a complete medical examination in a nurturing and supportive environment on children who are victims of physical or sexual abuse.  The medical exam takes place at the Carousel Center in a child friendly examination room. Each child receives a thorough head to toe exam similar to a well-child exam. Our medical staff has been specifically trained to gather the essential medical evidence, all while being extremely sensitive to the child.  The medical exam is conducted by a trained medical provider, assuring that evidence is neither missed nor compromised while it is recorded for later reference and prosecution.
Beyond the physical component of the exam, our medical providers help assure parents that their child is healthy and that if abuse has occurred, it will not be visible to others. Our providers offer extensive, one-on-one consultation not received during a regular doctor's visit, and they will take as much time as necessary to help the children by explaining each step of the check-up and finding ways to put the child at ease. Although there are very rarely physical signs of sexual abuse, many families find reassurance knowing that no permanent physical damage has been done.
Our Family Advocacy Program provides an on-going, supportive relationship to our children and their families who are affected by abuse. Our family advocates shepherd the family through the entire investigation process from beginning to end.  They assist with appointment scheduling, crisis intervention, victim's compensation filing, domestic violence intervention, court support, transportation, and linking to community resources. They are the first to greet our children when they arrive at the Carousel Center and the last to see them when they leave.
Carousel Center can provide a fluent Spanish speaking case manager to you. We also offer family counseling services and various types of therapy including traditional talk therapy, therapy and play therapy to children who have experienced sexual or physical abuse.  If necessary, we are happy to make appropriate referrals to outside mental health providers.
Child Advocacy Center Advantages
Reduces the number of interviews a child victim must endure, which reduces the trauma to the child
Creates a comfortable, child-friendly environment for the investigation as opposed to the environment typically experienced in a hospital emergency room or police station
Greatly reduces the time victims and their families spend assisting with the investigation because all services are provided at one location – what once took weeks can often be achieved in hours
Reduces law enforcement and Child Protective Services investigative time
Enables quicker prosecutions through more efficient case processing
Increases communication between agencies for an improved understanding of their roles and case need
A forensic interview is a structured conversation with a child intended to elicit detailed information about events that the child may have experienced or witnessed. It takes place in a neutral, child-friendly location designed to help the child feel comfortable. Interviewers trained and certified in a RADAR (Recognizing Abuse Disclosure and Responding) child forensic interview model is a best practice protocol for interviewing children five years of age and older and adolescents who are being assessed for possible sexual or physical abuse. The RADAR interview provides the child an opportunity to tell their story in their own words. It is not an interrogation, but rather a conversation tailored specifically to the child's age, development level, and any special needs.
Purposes of a Forensic Interview:
To obtain information that will either corroborate or refute allegations or suspicions of abuse and neglect
To obtain information from a child that may be useful in a legal proceeding
To assess the safety of the child's living arrangements
To assess the need for medical treatment and psychological care
Our forensic interviews are conducted by masters-level, child abuse professionals who have received advanced training on the forensic interviewing of child victims/witnesses. The forensic interviewers routinely participate in peer review to continually develop their skills and attend ongoing professional training.
During the interview, investigative partners such as law enforcement and social services are able to watch a live feed of the interview in a separate observation room. This concept is a key element of the child advocacy center model of care that better ensures the child will not have to endure the trauma of multiple interviews by multiple agencies. Recordings of the interview can later be obtained to aid in court proceedings.
Without effective therapeutic intervention, many child victims of abuse will suffer ongoing or long-term consequences that may impact them throughout their lifetimes. Our multidisciplinary team response includes access to trauma assessment and specialized trauma focused mental health services for child victims and non-offending family members.
The Carousel Center provides therapy services for children who have experienced sexual/physical abuse and/or neglect, so they can concentrate on doing the hard work of healing and get back to the business of childhood.
Carousel's Team of therapists are experienced in working with children and have specialized training in several proven treatment models, including Trauma-Focused Cognitive Behavioral Therapy (TF-CBT), Child and Family Traumatic Stress Intervention (CFTSI), Child-Parent Psychotherapy (CPP), and treatment for children with Problematic Sexual Behaviors (PSB). Bi-lingual services are available.
Safe Group: Parenting After Trauma provides a 12-week support group for child victims, ages 7-16, and their non-offending caregivers in a safe, supportive environment where they can discuss issues related to abuse of their child/ren and strategies for parenting after trauma.
A specialized trauma-focused therapy is also available at the Carousel Center to provide individual and family therapy as well as Child-Parent Psychotherapy (CPP) for children 0-6 who have experienced violence or are exhibiting sexual acting out behaviors.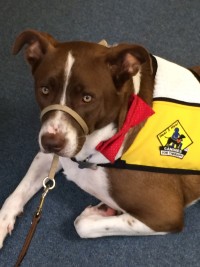 Our therapy dog Rudy is on-site to provide additional support to children and their families if needed.
Rudy is available to meet children and their families when they come to the CAC for interviews related to child abuse.  Being with a therapy dog can help calm a child and reduce the child's level of anxiety.
Our staff provides a wide range of professional training and other educational opportunities for interested groups on child sexual abuse recognition and prevention, mandated reporting, and the Carousel Center's program services. If you work for a school, daycare, after-school program, church, or any organization serving children, let us help you train your staff and volunteers. We welcome the opportunity to provide information in a brief talk for civic organizations.
Topics are varied and may include the following:
Overview and Tour of the Child Advocacy Center: 45-60 minutes, no cost
Come see our facility in Supply, NC or Wilmington, NC and learn more about the the Carousel Center Child Advocacy Center.
Child Advocacy Center 101 – this talk can be modified based on the time available. Overview of the child advocacy center model and specific services provided by The Carousel Center. This is great talk for civic groups, Rotary, Kiawanis, United Way meetings, etc.
Darkness to Light's Stewards of Children® (SOC) 2 hours depending on Q&A, no cost.  However we do ask for help with purchasing workbooks if possible. Nationally recognized, evidence informed training proven to increase knowledge of child sexual abuse and change child protective behaviors using 5 simple steps. Continuing education contact hours available for social workers, child care providers, and nurses. Continuing Legal Education (CLE) contact hours may also be offered.
Resilience: Film Screening and Discussion:  1.5 hours, no cost.  Adversity in childhood has lifelong effects on health and behavior. Resilience: the Biology of Stress & the Science of Hope chronicles the use of brain science to disrupt cycles of violence, addiction and disease.  Click the link to preview the film: 
For more information, or to discuss other potential training opportunities, contact the Carousel Center Child Advocacy Center at 910-254-9898
Our staff provides a wide range of professional training and other educational opportunities for interested groups on child sexual abuse recognition and prevention, mandated reporting, and the Carousel Center's program services. If you work for a school, daycare, after-school program, church, or any organization serving children, let us help you train your staff and volunteers. We welcome the opportunity to provide information in a brief talk for civic organizations.
Topics are varied and may include the following:
Overview and Tour of the Child Advocacy Center: 45-60 minutes, no cost
Come see our facility in Supply, NC or Wilmington, NC and learn more about the the Carousel Center Child Advocacy Center.
CAC 101 – overview of the child advocacy center model and specific services provided by The Carousel Center.
Darkness to Light's Stewards of Children® (SOC) – nationally recognized, evidence informed training proven to increase knowledge of child sexual abuse and change child protective behaviors using 5 simple steps. Continuing education contact hours available for social workers, child care providers, and nurses. Continuing Legal Education (CLE) contact hours may also be offered.
Resilience: Film Screening and Discussion:  1.5 hours, no cost  Adversity in childhood has lifelong effects on health and behavior. Resilience: the Biology of Stress & the Science of Hope chronicles the use of brain science to disrupt cycles of violence, addiction and disease.  Click the link to preview the film: 
For more information, or to discuss other potential training opportunities, contact the Carousel Center Child Advocacy Center at 910-254-9898