Want to be a Carousel Center Volunteer?
The Carousel Center has flexible and meaningful volunteer opportunities for those interested in sharing their time and unique talents toward restoring hope to children who have been abused.
Want to make a difference? Here are some ways you can help:
You and/or Your organization may host your own fundraiser to financially benefit The Carousel Center.
Host a drive to fill needs from our Wish List
The Board and Committees currently meet via ZOOM:
Serve on the Board of Directors – we are seeking individuals that represent the community we serve, and who will provide leadership, and business savvy to the organization.
Fundraising Event Committee Members – plan and make our annual signature events successful

 Sponsorship, Auction, Marketing/PR, & more committees available
Internships
Unpaid Development, Forensic, and Clinical Internships must commit to a 12-month internship. UNCW Students check out Handshake for
Paid WorkStudy opportunities at the Carousel Center.
Front Desk Greeters – Wilmington and Supply offices
Greet child and caregiver upon arrival, orienting to the facility, and providing child supervision as needed;
Variety Administrative/Clerical Duties;
Answering phones.
Complete the inquiry form below – if we are a match,  all Volunteers will be required to complete a full application, and complete a background check and drug test.
Questions?  Email Laurie Taylor at laurie.taylor@carouselcenter.org.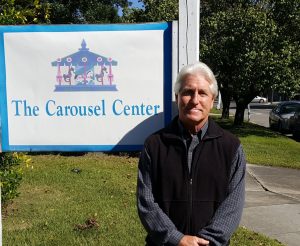 Michael Snyder answered the call for volunteers in 2013. Michael greets families and spends time with the children. He also helps out with various handyman tasks around the office such as putting together furniture or changing air filters. Micheal exclaims "The Carousel Center is a great agency and I cannot say enough good." In 2016, Micheal was awarded the Tin Man Volunteer Award – because he has the biggest heart!