The 2021 Carousel Center Beer & Wine Festival Needs you!
Here is a unique volunteer opportunity that only happens once a year!
Feel free to share with your colleagues!
The more the merrier – our goal is to secure at least 100 volunteers for the
October 29th Voracious and October 30th Beer and Wine Festival at the NEW
Beautiful Riverfront Park, downtown Wilmington, NC.
NOTE: All volunteers must show proof of vaccination or a negative test taken with 72 hours of the event.
Here's how it works in 3 easy steps:
1) Click this link to see our SignUp on SignUp.com: https://signup.com/go/SwKsHKZ 
2) Review the options listed and choose the spot(s) you like.
3) Sign up! It's Easy – you will NOT need to register an account or keep a password on SignUp.com.
Want to be a Carousel Center Volunteer?
The Carousel Center has flexible and meaningful volunteer opportunities for those interested in sharing their time and unique talents toward restoring hope to children who have been abused.
Want to make a difference? Here are some ways you can help:
You and/or Your organization may host your own fundraiser to financially benefit The Carousel Center.
Host a drive to fill needs from our Wish List
The Board and Committees currently meet Live and via ZOOM:
Serve on the Board of Directors – we are seeking individuals that represent the community we serve, and who will provide leadership, and business savvy to the organization. Seeking members from Brunswick and Pender counties!
Marketing and Communications Volunteers – help raise awareness of the problem of child abuse, and how The Carousel Center is here to meet the challenge!

Are you savvy with Video Production for social media? We'd love to have your help to share our mission, Meet the Team, Behind the Scenes, and Testimonials.
Do you like to write? Develop content for our website, press releases, etc.
Put your Marketing savvy to work and help us devise a marketing plan, and help execute the plan!

Development & Fundraising Event Committee Members –  It's not what you know it's how you know!  Help ensure that the organization has the necessary funds to fulfill its mission.

 Secure Sponsorships, & Auction items
Internships
Unpaid Development, Marketing, Forensic, and Clinical Internships must commit to a 12-month internship.
UNCW Students check out Handshake for Paid WorkStudy opportunities at the Carousel Center.
Front Desk Greeters – Wilmington and Supply offices – 4 hours shift at least 1 day a week
Greet child and caregiver upon arrival, orienting to the facility, and providing child supervision as needed;
Perform a variety of administrative/clerical duties;
Answer incoming phone calls.
Interested?  Complete the inquiry form below – let's see if we are a match! All volunteers will be required to complete a full application, upon commitment, a volunteer will need to complete a background check and drug test.
Interes en ser voluntario? (Are you interested in volunteering?)
Miembros de la comunidad Afro-LatinX son bienvenidos a participar como voluntarios en nuestra agencia con oficinas ubicadas en Wilmington y Supply.  Para más información comuníquese con Michel Montalvo, Terapista Clínica LatinX al (910)254-9898.
(Members of the Afro-LatinX community are welcome to volunteer in our Supply and Wilmington offices. For more information, please contact Michel Montalvo, LatinX Clinician at (910) 254-9898.
Questions?  Email Laurie Taylor at laurie.taylor@carouselcenter.org.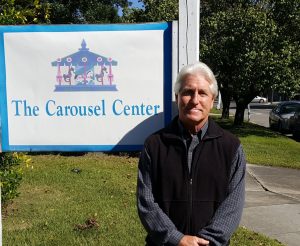 Michael Snyder answered the call for volunteers in 2013. Michael greets families and spends time with the children. He also helps out with various handyman tasks around the office such as putting together furniture or changing air filters. Micheal exclaims "The Carousel Center is a great agency and I cannot say enough good." In 2016, Micheal was awarded the Tin Man Volunteer Award – because he has the biggest heart!