Heart of the Matter & Tinman Award Luncheon
Annual Luncheon & Fundraiser
Wednesday February 6th, 2019
11:30 AM – 1:30PM at the Hotel Ballast Grand Ballroom
SAVE THE DATE
WEDNESDAY, FEBRUARY, 5TH 2020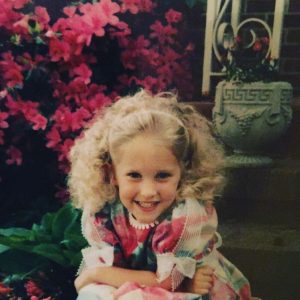 Thank you to all who attended our 5th annual fundraising luncheon to support child trauma therapy, advocacy, and community awareness for children who have experienced physical/sexual abuse.  Because of supporters like you, the 5th Annual Heart of the Matter Luncheon successfully raised more than $30,500 in proceeds!  These funds makes it possible for Carousel to continue its mission to provide a nationally accredited, child-friendly environment to meet the needs of abused and neglected children, and to support child abuse prevention efforts in Southeastern North Carolina.
At the luncheon, Madison Smith, a survivor of child sexual abuse at the hands of her father starting at the age of 6 (picture left), shared her story of years of sexual abuse at his hands. Then as an adult navigating the New Hanover County justice system, and painful family-estrangement. Due to her persistent efforts for justice, her father received a 5-year sentence for 10 years of sexual abuse. There was not one person in the room that was not touched by this powerful and emotional testimonial by a very brave and persistent woman.
At the luncheon the Carousel Center also recognized and honored 19 Community Professionals and Volunteers nominated for the annual Tin Man Awards for their incredible contributions of time and talent assisting child victims of abuse.
Two very special individuals were awarded the Tin Man Biggest Heart Award for 2019.  

Justin Sorrells awarded the Community Volunteer Tin Man Award
Justin has been nominated every year since the Tin Man award was established to honor our Community Professionals and Volunteers who demonstrate above-and-beyond commitment to Carousel's mission, serving vulnerable children, and on the front lines of serving children who have experienced maltreatment and abuse. Justin has been involved with and producing the Carousel's signature "Making Legends Local" GALA for over seven years! In. His. Spare. Time. As with many community volunteers, Justin is chooses benefit The Carousel Center with his time, talents and energies to ensure Carousel nets $100k in net proceeds from the GALA each year. He is a full-time math educator at GLOW Academy with four active children, three at home, one in Year 1 of college at UNC-CH, plus two fur children to manage. Children that he and his spouse adopted after serving as their foster parents! He KNOWS first-hand the value of Carousel Center. He is ALWAYS bringing his signature humor, creativity and command of a group to the GALA production, that has many moving parts! Every year he delivers, and his efforts make Carousel Center SHINE!  Justin deserved to win the Tin Man Award because a bigger heart you'll NEVER find! AND each Christmas, you'll find his/her signature Wizard of Oz tree decorated in full glory! Right next to a pair of Dorothy's Ruby Slippers!
Contact Laurie Taylor, CFRE, development manager laurie.taylor@carouselcenter.org or call her at 910.254.9898 to sponsor the Heart of the Matter luncheon or host a table in 2020.

Det. Chawana Moore-Johnson awarded the
Community Professional Tin Man Award
To know Chawana is to love her. She makes you feel like you have known her for years. Anytime she enters a room, Chawana immediately makes everyone in the room smile with her amazing sense of humor, or with a funny story from the day prior.  Although she has tons of paperwork and deadlines, Chawana always puts the people first and that is what I love most about her. Chawana always answers her phone just to make sure her co-workers are ok even if she is not on the clock. She handles cases "in the moment" rather than worrying about the endless amounts of paperwork that needs to be completed. She puts child safety before anything.. or my safety in that matter because I tell everyone she is my bodyguard. While interviewing children together, Chawana makes the kids feel comfortable while talking to them. Many kids are intimidated by talking to "the police", but not with Chawana. She makes the kids laugh and ensures that they know she is there to make sure they are safe. Her willingness to put others first astounds me. One of my favorite memories with Chawana was working a case where the perpetrator resided in Mexico. Before I knew it, Chawana was on her phone searching plane tickets because she was so affected by what the child had disclosed. She looked at me and said "well are you coming?" and although we both knew that was unrealistic, Chawana would have made it happen if she was allowed. This is just one example of how big Chawana's heart is. I am so honored to be able to work alongside with such an admirable detective, and I thank her for everything she does for this community and our kids.